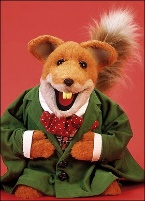 Hello Everyone!
We have two and a bit weeks until the end of the term. Then it will be the summer holidays, yay! If I haven't seen you at school, I do hope you and your family are well and that you are continuing with your home learning.
I came across something the other day which I thought you might watch. When I was little there was a character on TV called Basil Brush. There is a picture of him above. I used to think he was pretty silly but he did make me laugh!
I noticed that Basil has made a video of himself telling a story called 'Sadsville'. A sad title but a story with a happy ending! It is quite long so you could maybe watch five minutes a day. See what you think. His voice can be a little irritating but he is cute and quite amusing!
You may have heard that we will all be back to school in September which is really exciting. We will make sure you get plenty of time to get used to being back at school so please don't worry.
Take care of yourselves and each other,
Boom! Boom!
Mrs Church