A Message from the Headteacher
Welcome to our website. Fleggburgh CofE Primary School is in partnership with the Neatishead and Salhouse Federation. The school is situated in a beautiful rural area close to the sea and the Broads. With a nursery, Little Explorers, on site children can enjoy learning at the school from age two to eleven.
I feel so proud to be the Executive Head Teacher at such a happy and vibrant school where pupils, staff and governors share a strong commitment to the highest standards of teaching and learning in a family friendly environment which promotes the best interests of our children. The school is proud of the close links it has with its community and the strong partnership it shares with parents and carers.
I know this school is a happy and safe environment where everyone shares a love of learning as the pupils tell me so!
As a church school, our Christian values are at the heart of all we do. However, our school is open to all faiths and no faiths and we pride ourselves in our inclusive practice.
It is our aim to develop independent learners with a "can do" attitude who readily celebrate their own efforts and achievements and the effort and achievement of others. At Fleggburgh, we support this through nurturing pupils' creativity, encouraging independent thinking and showing that mistakes are learning opportunities.
We are regularly updating our website so that it will provide a wealth of information about the school and our offer to pupils. However, the best way to find out about the school is to drop in for a visit. There will always be a warm welcome for you. There are so many benefits to attending a small school and we would enjoy showing you around and sharing the successes of Fleggburgh Primary School and Little Explorers nursery.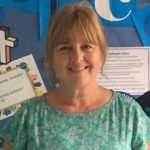 Best Wishes
Julie Church